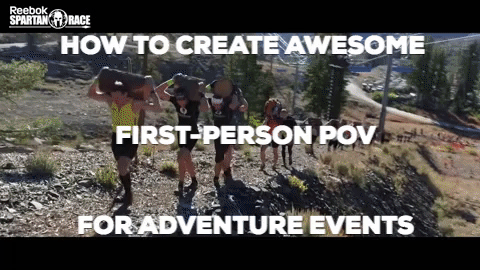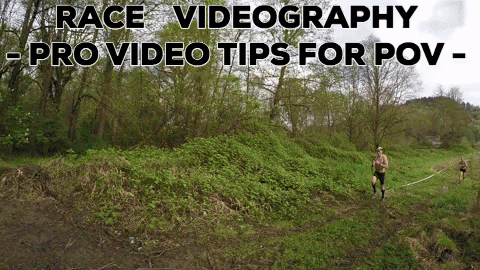 Q: "What is a rabbit cam?"
A: A rabbit camera is a videographer who runs in the event or event. He/she is embedded with the athletes and captures a wildly unique and exciting first-person POV (point of view).
---
Q: What makes the "rabbit cam" view special? 
A: The rabbit camera video is the most engaging footage because the audience feels like they're in the race themselves.
---
My background: I have been hired by NBC Sports on countless occasions to run as a "rabbit cam" in obstacle course races (e.g. Spartan Races, Tough Mudders). I suppose you could say I am a "professional rabbit cam," which sounds funny but hey… they keep hiring me for a reason! 🐰🎥
---
Key Ways to Succeed as a Rabbit Camera
Go with a gimbal. Jittery footage will make-or-break the video. You don't want to give your audience motion sickness (see Blair Witch Project). Here's a good example of a rig. Remember: less is more. I've seen people with decked-out GoPro rigs, and they lose 90% of the race because they can't keep up.
PRO TIP: If you can't afford a gimbal or you're swimming (e.g. filming World's Toughest Mudder) and thus cannot submerge your gimbal, go with a head-mounted camera. The head is the next smoothest object and is infinity more stable than a chest mount or hand-held selfie stick.

---

Dress for success. Wear a shirt that protects your elbows (you will be crawling) and compression tights that cover your knees (again. crawling.).
PRO TIP: The shoes are the most important part of your gear. Recommendation: Inov-8 Mudclaw 300 Trail Running Shoe 

---

Cheer on the athletes. Certainly you can't give them unfair advantages (e.g. "2nd place is 20 seconds behind you!") however you are at times in their way, especially if you're running with them on a single track. So be cool and encourage them. They're working hard, giving you epic film, so be nice and don't treat them like a face-less object.


---

Go minimalist but don't forget backups. Your gear will die. I sometimes race with an entirely new camera.
See the downside to being a rabbit camera is you're by yourself (which being autonomous is actually pretty awesome, if you're Director trusts you). Odds are you are several miles away from base-camp, which means it's a smart idea to have extra batteries, SD cards, map of the course, ibuprofen or mustard (for muscle cramps), and a lens cleaning cloth.
PRO TIP: Keep all your gear in a sealed ziplock bag and carried in a running belt like this.
Because you are carrying extra weight–and still in essence doing exactly what the elite athletes are doing–then that means you have to…

---

Work out like crazy.  I've experimented with going into an event green (no working out) and working hard two weeks prior–and the the latter definitely lends to less injuries.  Take care of yourself. Sure you can push through the pain, but if you want to keep doing this work, you'll need to train your body to endure it consistently.


---

If you're live-streaming your feed, carry a radio. Some races you live-stream your feed, say from an iPhone and basecamp is cutting together your feedback.  1,000s of people are watching you on Facebook (some are cheering you on!). Thus you

must

be able to communicate with base-camp.  If your video feed suddenly cuts out, they need to let you know. If this is the case, a small running backpack is a good idea to carry the bulky radio. Most of the time you can get away with being a lone-wolf videographer and simply dump the footage when you get back.


---

Jog/walk the course the day before. This might be a pain, especially if the course is +15 miles of mountain terrain, but the more knowledge you have of the race, the better your video will be. You might have to cut switch backs or duck under tape if you lose the top 10 racers.  Thus being aware of the course is the only way to know when and where to duck-the-tape and meet up with your racers.
PRO TIP: Carry a map and make edits and notes as you go. You'll refer to it more than you'd like on the day-of, but each time it will be a life-saver.
PRO TIP x2:

If you are military you know prior to an engagement you over plan, over plan, over plan… then on the day-of, through the whole thing out the window.

---

Bring garbage bags in your luggage. And Q-tips. And flip-flops. And a towel and soap. You will be filthy.
PRO TIP: If you have to catch a plane and you've already checked out of your hotel before racing, of course the last thing you want to do is board a plane with mud caked in your eyeballs and ears. Google around for a trucker-stop for a shower-to-rent. They're usually 15 bucks. Or if you're a cheap-stake, find a public pool and pay 4 bucks to use their showers.

---

---

What you should get paid. This is a big question, but let's be honest: this is a very unique, highly valued skillset. Some athletes will run as a "rabbit cam" for free, just for the fun of it.  It is fun, but it takes incredibly good camera work, experience, stamina, and clear-mindedness under immense pressure.  Rabbit cam work is also wildly different than conventional camera work because you are putting your body on the line. So don't be afraid to ask to be fairly compensated. Payment for a rabbit cam can be anywhere from $300 to $2,000 per race.  It really depends on the length of the race, location, if the camera crew provides their own camera gear for you, and many other factors.
PRO TIP: Every production crew I've worked with is very cool, so I don't push the negotiating. Just a reminder they are already paying for flights, hotels, and food for you, so keep in mind the production's tight budget isn't

just

paying your salary. Be cool, and they'll be cool back… and keep asking for your rabbit cam services.

---

Run the race. When you're done filming your rabbit cam, and have successfully transferred all of your footage… run the entire race. Yes, the entire thing. I've run nearly every single race after filming, and while your pace is going to be painfully slow (I mean you just ran it–maybe two times already, right?), use this as an opportunity to cheer on other racers and get a free t-shirt at the end of the race.  I mean you're already there, right? Might as well do the entire thing, straight through.


---

AROO!

-Beau "Rabbit 1" Chevassus
Pro Rabbit Cam
ReachOut@Chevassus.com